By Karelys Beltran
This is our second installment in the Powerful Latinas in the Valley series.
A powerful woman owns her voice, and lends it to those who do not have one.
 
Rosa Mabel is one of the most phenomenal women I've met in my life. Her work resonates with every piece of my being. She is a travel documentary and portrait artist. She has nurtured her craft and been published in several platforms, including Halation Magazine, El Sol de Yakima. Her work has been in Mighty Tieton and Yakima Valley Museum Exhibits. She was a part of the conference "Women Who Rock," and continues her work in every city she resides.
Rosa chose to pour her energy in the invisible among us.
You Instagram your salad, your berries, and wine tourist excursions. You consume local, and the farmers market pictures lets everyone know you are a more discerning consumer. But do you stop to think where it comes from and what it takes to bring it to you so it's Instagram worthy? We've all seen the pictures of child labor camps overseas and try to not contribute to unfair labor practices by buying shirts, coffee, and other products in a more mindful manner. Why is the agricultural work not gaining the same kind of traction and occupying the same mental real estate in our minds when it comes to being a fair and discerning consumer?
It is uncomfortable and controversial to focus on the origin of where your food comes from.
Do you think about the intricacies of the agricultural economy?
Are you aware of the sex crimes, hate crimes, mistreatment, abuse of authority, stolen pay, and demeaning conditions that are sometimes attached to the dirt in your vegetables?
This powerful woman has decided to lift her camera to document the work of those invisible ones in our fields, right here in our valley. She does justice to their beauty. She tells the story of the pockets of subculture that have been born among the women who protect and care for each other among the dirt, sun, extreme weather conditions, and disenfranchisement. My hope is that you grow in awareness and appreciation of the women who sweat and bleed to bring you the beautiful good you consume.
Here is my call to action: Admire Rosa's work. Get intimate with it. Then take a friend, a pack of tortillas, an avocado, and some queso fresco. Then head to the lower valley and begin to understand your own community. Take a look. A deep look. See how hard these people work. Thank them for the effort they put in it. And when it is time to vote, use your voice with these women and their families in mind.
We are all stronger together.
//
Who are you and what kind of work do you do? Whats your story?

My name is Rosa Villoslada, I am a fulltime mom and a documentary photographer.

Rosa was born in an agricultural area in Peru, south America. At the age of 17, just after finishing high school, I migrated to Italy, it was not a hard decision to make. Peru was having acts of domestic terrorism, "the shining path" was recruiting young people, specially ones without a future, like me. My family was very poor, and most likely I was going to stop my education, and who knows…economy in my country was the worst. So I caught the opportunity, and fled the country.
Out of my country I looked for something similar to my culture, my community. There were only a few Peruvians in Milan, and to be honest the sense of community wasn't there. Everybody was lost, just like me. My sisters where my only support and from far away my parents would encourage me to keep going. I created my own way to develop myself and get better, I educated myself, I learned to respect and value the city where I was living, I adapted to the new society I was part of.
I lived there for 14 years.
I was doing good? Yes, but how good?
I was still surviving, just with less worry.

Where my heart is leading me?
In 2001 I met my husband and fell in love. He is American. We moved to Florida, and set to start a new chapter in my life. I have to say that after all these years I still cannot understand this country. I feel lonely here, my heart one more time led me to look for a community;
something that is close to my roots. I went to photography school where I developed my
passion for documentary and photojournalism.

I have a purpose that fill my days, and is to document migrants on their daily life, unknown
stories that people may want to know and it may help to sensitive this society.

I know my ways to survive, I want to share them. I know how hard it is to be alone, not knowing
the language, not knowing if people are polite or nice, and most of all I know the migrants pain. I am working in a couple projects about women and immigration as a continuation of my series of Unknown Faces of Yakima Valley.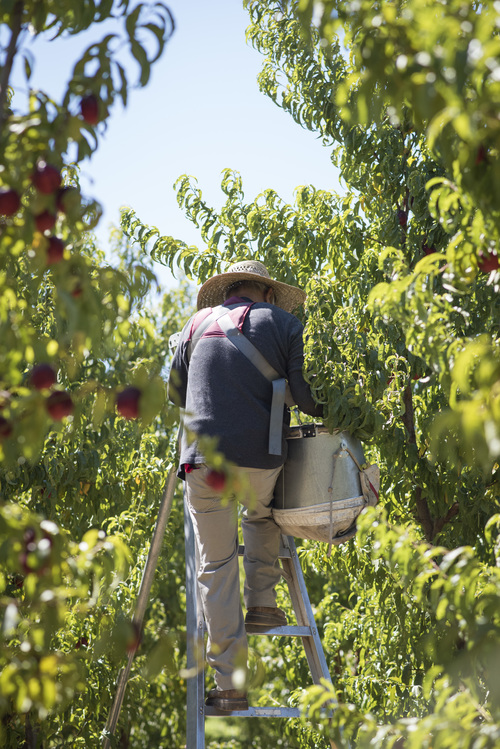 //
I feel so honored and humbled that Rosa has chosen to let Denizen share her story. She is a prolific artist worth knowing. When Rosa is setting an exhibit in the Valley again, Denizen will promote her work and invite you all to get intimate with it.
She has a home for her work, on the website www.rosavilloslada.com

Enjoy!